Sensual yet Sadistic Asian Mistress in Centra London
I

am an Asian Mistress based in Central London. A Medical Dominatrix and Sadist specialising not only in heavy medical play, but also classical BDSM journeys for a selection of slaves, masochists, submissives and bottoms in UK and Europe.

Although medical fetish play is my primary activity and expertise, as a sensual Asian Mistress I have honed my skills in many forms of domination and my expertise in fetish fantasy realisation is varied. My BDSM and fetish interests are flexible and fluid depending on the person receiving my attention.

BDSM and Fetish scenes that I enjoy:
Besides medical play, I enjoy enacting different types of scenarios, providing exciting ways with techniques and confidence to bring your secret desires to life.

Anal training: Forbidden fruit. Anal is taboo therefore I find it exciting.

Strap-on and butt plugs in varies sizes, anal probes, vibrators, anal beads, enema, fisting…

Bondage: To intensify the senses of your body and the feeling of vulnerability. Once you are bound, you will focus on the sensation being given (i.e. pain).

Typically as an Asian Mistress I have mastered the art of rope bondage and I am inspired by traditional shibari techniques.

Other bondage includes: body harness, straight jacket, handcuffs, leather cuffs, belts, straps, bodybag, clingfilm, duct tape, bondage tape…

Cock & Ball torture: As one of the most creative and sadistic CBT Mistress in the UK, I cater all levels of CBT.

CB bondage, weights, electro stimulation, whipping, needles, ball crusher, catheters, infusion, fish hooks, piercing, ball kicking, ball busting, ball stretching, ball slapping etc etc etc. Going after submissives' most delicate and precious areas is one of my favourite activity. Check my session teasers to get to know my work.

Corporal punishment: In my role as Dominatrix, this is how I train and discipline My submissives, to teach them proper behavior and obedience.

Spanking, paddle, tawse, caning (rattan, bamboo, fiber glass, Singapore prison cane), riding crop, whip (signal), flogger…

Electro play: Electro play is all about exploring fear and stimulating the body's nervous system to produce intense sensations.

Foot worship: The most sought after non-sexual body part.

I'll dominate you with my bare feet, stockings, high heels, boot worship, trampling…

Nipple torture: The intensity of pain….and pleasure (maybe not).

Nipple clamps, weights, clothes pegs, tit tower, extreme claws…

Sensory deprivation: Taking you to the unknown by blocking your sense of sight, auditory, taste and touch.

Blindfold, gag, ear plugs, mummification, My creativity…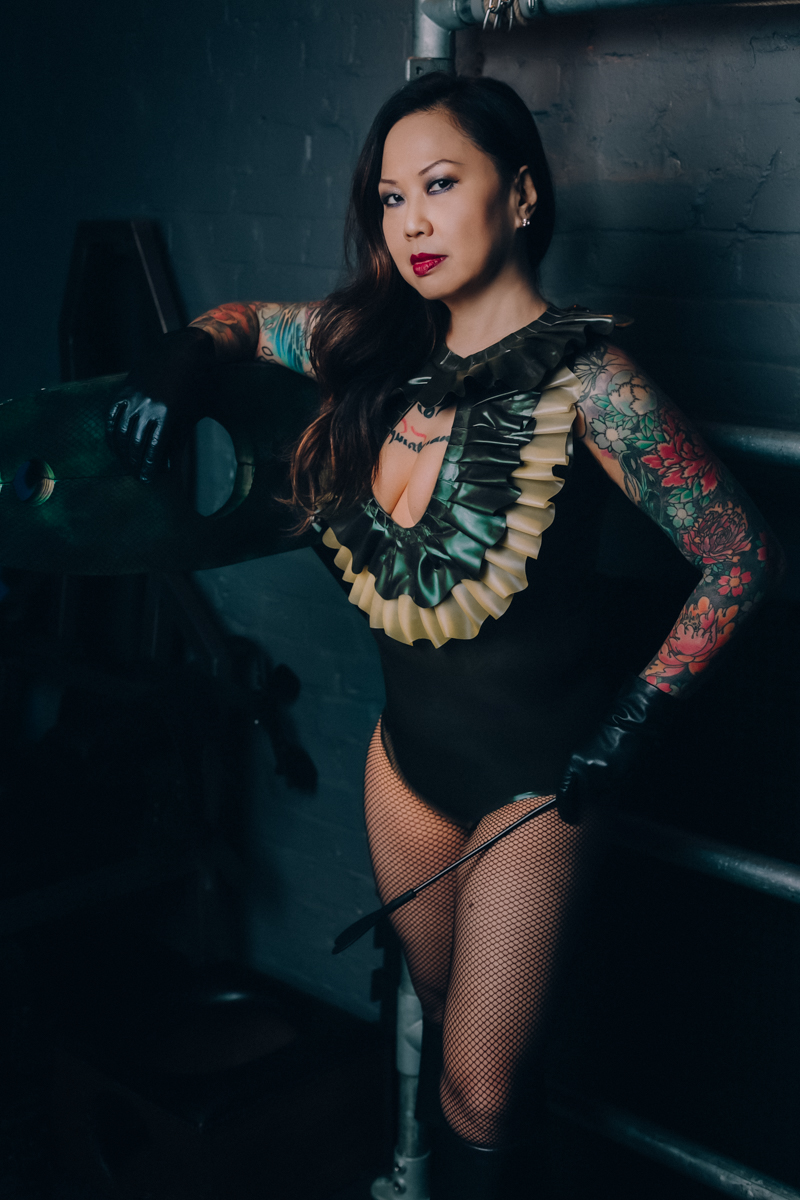 Let Me be the first to welcome you to your BDSM journey.
Now you have decided to explore your erotic fantasies but you are not sure how to start.
All submissives have similar desires: to be submissive, to be exposed, punished or corrected by the dominant, some even crave for verbally humiliated, and so on. Before you dive into the world of BDSM, be honest about your fantasies so that you know what is your style of submission.
What are your favourites? Role play fantasies such as being controlled by powerful but sexy female boss in stiletto heels or authoritarian school teacher that would give you hard spankings when you are being naughty? Does your fantasy including bondage, blindfold, sensory deprivation? What about in a cold hard medical room being examined by a group of female nurses? Perhaps you just want to be a footstool, or a pet, something you do not require you to think or do. Fantasies are not rational so no need to be embarrassed by them.
M. L .Y